How to Get Here
Secluded, Remote, Private
Downstream:
Raft or Drift boat into Lodge with many different outfitter companies. Private trips can access the Rouge by entering the lottery and obtaining a private permit to float this section. Permits are lottery based with an annual lottery in January of each year. Managed by Bureau of Land Management at the Rand Station in Galice, OR.
Upstream:
Jerry's Rogue Jets - see link below
Relish the spectacular scenic and informative 52 miles upriver trip from Gold Beach to Half Moon Lodge on a Jet boat. Book a round trip by calling Jerry's after you have booked your rooms at Half Moon. They run trips May 1-Sept 30.
Price is $135.00 per person for the round trip for our overnight guests.
Air:
Private Helicopter Charter from Medford Airport available. Air charter is also available into Gold Beach from the most west coast major airports. The Gold Beach airport is adjacent to the Jet Boat harbor so easy transfers are possible.
Private Pilots. Our airstrip is closed and for emergency use only.
Hiking:
Hikers may access Half Moon by trail. It is 28 miles downstream of Graves Creek and 14 miles upstream of Foster Bar. The Rouge River trail is a well known and widely published in guide books.
We will need to ferry you across the river and can prearrange a meeting time by calling reservations.
There is an additional trail, listed by Curry county, as Bobs Garden trail. It is accessed via Bear Camp Road and is approximately 5 miles long with 4000' of elevation change. We can not find anyone that has done this but would love to learn more.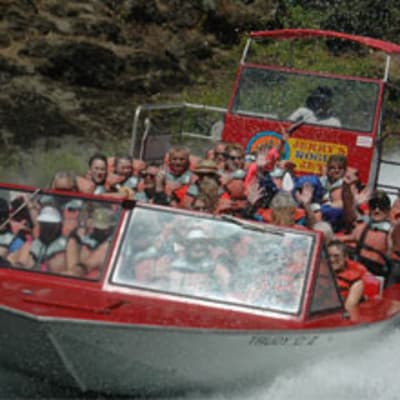 Jet Boat
1-800-451-3645
Jerry's Rogue Jets and the Rogue River Mail Boats are a careful blend of adventurous jet boating, nature based tourism and unscripted narrated entertainment; all of our captains are veteran boatmen of the Rogue River.